O'Brien Auto Park 

First Time Buyer Program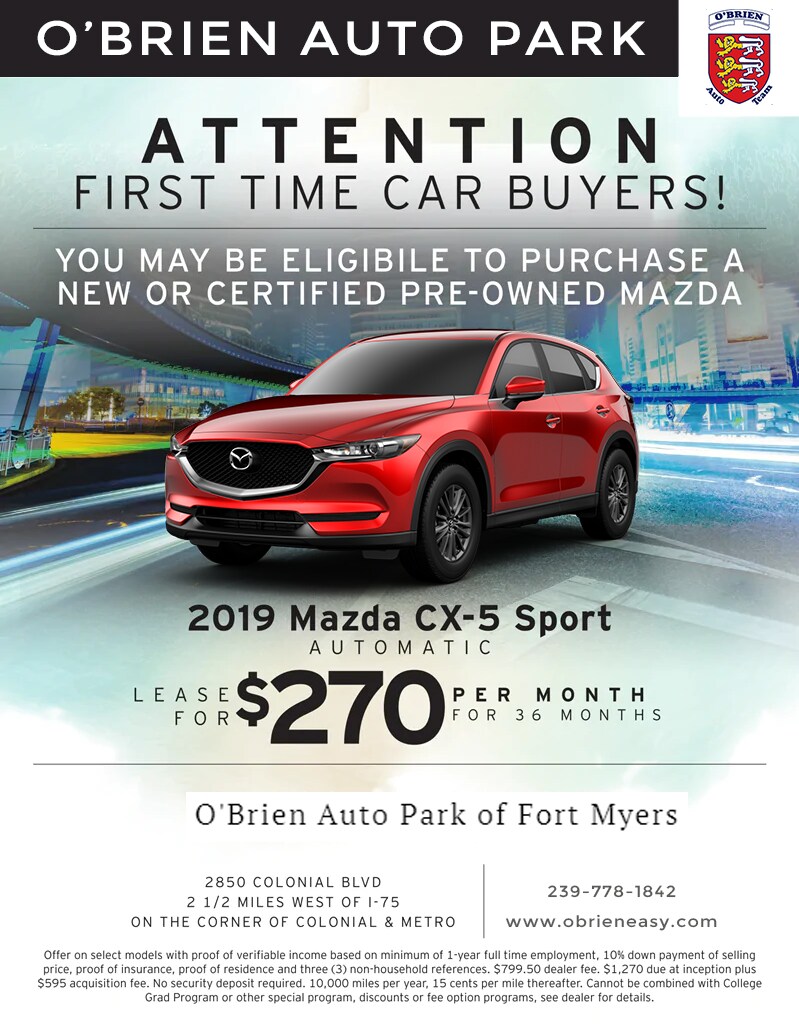 Find Affordable Cars in Florida
Here at O'Brien Auto Park of Fort Myers, FL, we understand that being a first-time car buyer can be as exciting as it is daunting. We strive to help pair Florida's first-time car buyers with affordable cars that will keep them safe on the roads for years to come. Whether you are a student at Florida Gulf Coast University (FGCU), or you're finally financially stable enough to purchase your first car, our expert team is here to help you find the best vehicle for your budget. Read on to learn more about our first-time buyers program, our inventory of new and used cars, and our financing and auto service opportunities. Still have questions? Call us at (239) 970-9175 today, and we can help jump start your first car buying journey!
Our Expert Staff Helps Guide First Time Car Buyers
O'Brien Auto Park of Fort Myers, FL, is proud to offer a diverse inventory of used and new cars. Our used car inventory is full of gently used options perfect for new drivers and first time car buyers. If you are looking to make more of an investment in your first vehicle, you may be interested in browsing our new car inventory. It is important to consider how your insurance rate will be affected when buying a used or new car as a first-time buyer. Our expert team members can help you weigh your options as you narrow down your selection from our dealership inventory. Our friendly staff has years of experience assisting veteran car owners and first time buyers, like you, find their dream cars. No matter your preferences, we can find the vehicle for you.
How to Qualify for Our First Time Buyer Program
If you are looking to purchase your first car, you may qualify for our first-time buyer program. Many first-time car buyers struggle to find dealerships who will sell them a car or provide them with a car loan because they lack a credit history. Here at O'Brien Auto Park of Fort Myers, FL, we work to combat this issue with our first-time buyers program. If you have no prior auto loan or lease experience, no derogatory comments on your credit report, and you can provide proof of income, you may qualify for the program. Having a good credit history and agreeing to a reasonable down payment, that of approximately $500 or more, can help you increase your chances of being accepted into the program.
Check Out Our Service and Financing Options
As a first-time car buyer, you are about to embark on the entirety of the car-owning experience. Unfortunately, the responsibility does not end when you drive your first new car off our lot. You will likely have a monthly car payment to tend to, plus routine maintenance and the occasional unforeseen repair. Luckily, O'Brien Auto Park of Fort Myers can help with all your car-related needs. We offer financing options to help you secure a car loan or lease, depending on your needs. Fill out our finance application, so we can assess your eligibility for our financing resources. We also provide auto services, so you can rest assured your first car will drive smoothly and safely for years to come. Whether you need a routine oil change or tire rotation or you're having an issue with your car that needs fixing, our expert technicians can help. Check our service specials for bargains on your car's maintenance.
FGCU Students Choose Us for Their First Car Purchases
With the campus located near our O'Brien Auto Park of Fort Myers location, many Florida Gulf Coast University students choose our dealership for their first car. If you've noticed your classmate driving a new car on campus, chances are we sold it to them through our first-time buyers program. Don't get stuck walking to class in the Florida heat. Let our expert team help you find your first car. You'll be riding in style on and off FCGU's campus.
Contact Us to Find Your First Car Today
As you read this, your first car could be sitting on our lot. Don't spend another day without a car of your own. Let O'Brien Auto Park of Fort Myers help you get where you want to go. Contact us today to buy your first car!
Hours
Monday

8:30AM - 8:00PM

Tuesday

8:30AM - 8:00PM

Wednesday

8:30AM - 8:00PM

Thursday

8:30AM - 8:00PM

Friday

8:30AM - 8:00PM

Saturday

8:30AM - 8:00PM

Sunday

11:00AM - 5:00PM