O'Brien Auto Park of Fort Myers Offers New & Used Cars on Finance
Tax refunds and the purchase of a new or used vehicle complement each other almost as well as a hot slice of apple pie and a dollop of ice cream. Many Americans will spend their federal or state tax return on a new or used car this year. With the average IRS tax return falling between $2,500 and $3,000, that represents a sizable down payment to make monthly car payments more affordable going forward. If you're shopping a la mode for the car of your dreams, you can't go wrong with a visit to O'Brien Auto Park of Fort Myers, FL. Our car dealership has plenty of great offers on new cars with flexible financing options to help you make the most of your investment. Read on to discover the many benefits of using your tax return to purchase the new vehicle of your choice.
Tips for Maximizing Your Investment with Your Tax Return
Just because you're anticipating a significant federal or state tax return doesn't mean you should make a hasty purchasing decision you may end up regretting later. Think about your current car's value. If it's paid off and it's been a long time since you've bought a new car, this could be your golden opportunity. However, that doesn't mean you have to test drive the most expensive vehicle on the lot when thinking about an upgrade. You should put considerable thought into what you can reasonably afford to pay per month in car payments while factoring in other variables like car insurance costs, car maintenance, and depreciation. We have online tools to help you determine your current car's trade-in value. You should also call your insurance provider and get estimates on insurance costs for the class of vehicles you're looking to invest in with your tax return. Finally, it's not a bad idea to call your bank or credit union to inquire about financing options. If you've already been pre-approved for a loan, it gives you a powerful negotiation tool when discussing interest rates and financing options at the car dealerships.
Purchasing a New or Used Car at the End of the Year vs. Tax Season
You needn't wait until you file your taxes and receive your refund to buy a new vehicle. Plenty of savvy consumers shop around for a new car at the end of the year when they're likely to find the best deals from dealerships looking to move their inventory. Purchasing a new or used vehicle before the calendar year flips offers a valuable tax incentive many can't resist. The sales tax paid on an end-of-the-year vehicle is eligible as a tax deduction on the next year's tax return in many cases. However, if you're not confident about your calculations using a tax return estimator, there's also no harm in waiting until you have your tax return check safely in hand to begin browsing. It certainly makes it easier to establish a budget.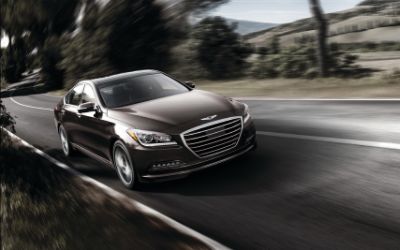 To Cover the Down Payment or Your Monthly Car Payments?
Once you have a specific budget in mind, you can begin looking at new and used vehicles that meet your requirements. You can then decide if you want to use your tax refund to cover a down payment or if you'd feel more comfortable spreading it out over some of your monthly payments. For example, if your monthly car payment was $300 and your tax refund was $3,000, that'd be 10 car payments already in hand. Because state and federal tax returns may vary greatly from year to year, you shouldn't count on recurring tax refunds to finance your new car. You're better off visualizing this as a one-time tax incentive deal to avoid spending beyond your means. You may also want to use your tax return to fix or upgrade your current car or to pay down or refinance an existing car loan. Whatever you decide, focus on driving the deal rather than letting the deal drive you!
Visit One of the Most Reputable Car Dealerships in Fort Myers
O'Brien Auto Park of Fort Myers is proud to be among the most reputable car dealerships in the Fort Myers, FL area. If you're looking for a wise investment for your state or federal tax return, we encourage you to visit or contact our dealership. You may also view testimonials from our thousands of satisfied customers over the years, which speak volumes about our dedication to customer service. Everyone from our sales team and financing department to our service and parts specialists will work with you to ensure your total satisfaction long after you drive your new or used vehicle home from our dealership!