How Fort Myers, FL Residents Can Sanitize Their Vehicles
O'Brien Auto Park's Advice on Sanitizing Your Vehicle
We're hearing new information about the coronavirus and its symptoms all the time. Many people are looking for innovative ways they can avoid infection and keep their family healthy. At O'Brien Auto Park, we want to do our part to help the Fort Myers, FL community through these trying times. While we're not healthcare specialists, we are experts in cars and keeping them well-maintained. Look to our experienced technicians on the best ways to disinfect your car interior and more.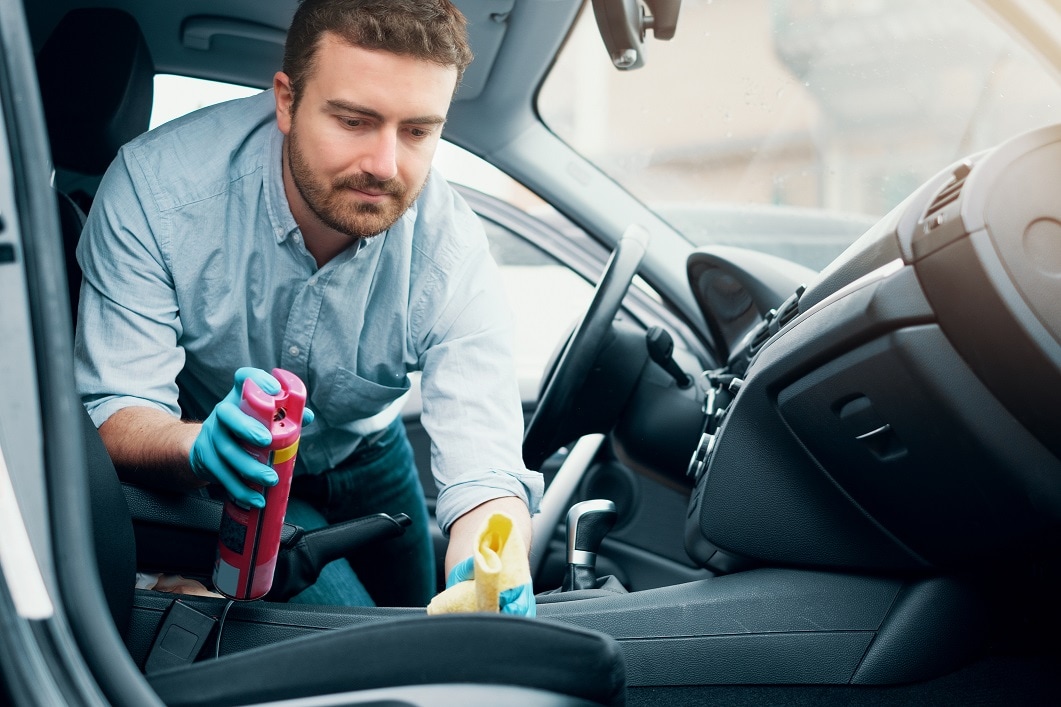 What Can I Do to Avoid Coronavirus Symptoms?
Disinfecting the interior of your car seems like a huge undertaking, especially if you drive a van or another large vehicle. However, vehicles can quickly become a place for human coronavirus and other infections to fester. Be sure to regularly wash your hands or use hand sanitizer whenever you come into contact with a high-touch surface, such as a car steering wheel or gear shift. Want to disinfect your entire car? Follow these tips.

Identifying High-Touch Surfaces
We mentioned high-touch surfaces earlier, but we can't overstate the importance of regularly cleaning areas you touch often. But how do you know exactly which parts of your car need extra care? There are obvious answers such as the steering wheel and your keys, but you should also concern yourself with a few more areas in your car. Take care to wipe down door handles, locking buttons, window controls, and the turn signal.

What Should I Use to Disinfect My Car?
At O'Brien Auto Park, we don't recommend using just any cleaning agent to slow coronavirus transmission. Alcohol-based cleaners are your best bet, and it's what most auto manufacturers use as well. Use a small amount of cleaner and a soft, microfiber cloth to wipe down any electronics to keep them in top shape. Refrain from utilizing ammonia-based cleaners or harsh chemicals, as they can damage electronics in your car. As you get to work scrubbing your car, spend extra time on those high-touch areas.

Cleanse Soft Surfaces as Well as Hard Surfaces
As you focus on disinfecting your steering wheel and turn signal, make sure to clean the fabrics and soft surfaces as well. These can hold germs just as well as hard surfaces and can use a good clean to keep them free of the virus. The Centers for Disease Control and Prevention (CDC) suggests using cleaning agents made for the specific fabric in your car, such as leather cleaners or upholstery shampoo. Again, stay away from ammonia or bleach as you sanitize the fabric in your vehicle.

Cleaning Up After Children in Your Vehicle
Because of coronavirus isolation precautions, you likely haven't had lots of passengers in your car. However, if you have children, they've probably made a mess of their own in the backseat. As you get to work cleaning, be sure to sanitize blankets, car seats, and any toys they may have left in the car. Check the washing instructions on toys before simply throwing them in the washing machine or using alcohol-based cleaners on them. Some children's toys may be best disinfected with a solution of bleach and water, just don't mix it with ammonia!

Don't Forget to Protect Yourself!
Although you won't be using harmful chemicals to sanitize your car for coronavirus, O'Brien Auto Park still advises you to wear gloves. Wearing these as you sanitize your vehicle helps to avoid the further spread of the virus. Once you're finished with your gloves, carefully remove them and turn them inside out. Throw them away immediately and wash your hands with soap and warm water. In addition to these guidelines, make sure to stay up-to-date on the World Health Organization's recommendations for staying healthy, such as maintaining a safe distance between yourself and others.

Reach Out to Our Team for More Information
In such uncertain times, O'Brien Auto Park understands you want something and someone on you can rely. We strive to be a reliable source of information when it comes to your car. We're well-known in Fort Myers, FL for our top-notch customer services and expertise in aspects of vehicle maintenance. If you need help sanitizing your vehicle, simply call our office, and we'd be happy to give you additional tips. Looking to buy a car? Our digital storefront makes it possible to purchase a vehicle and have it delivered to you—you never need to leave your home! Contact us today to learn more about our services and what we're doing to mitigate human coronavirus.