O'Brien Easy Sells Used Cars in Fort Meyers, FL
The Best Time of Year to Finance a Used Car
Deciding to buy or lease a new or used vehicle is a big decision for anyone. When you're looking for a new ride in Fort Meyers, FL, turn to the experts at O'Brien Easy. We'll help you find the perfect car for your needs. When you have the luxury of planning your next purchase, it's important to consider all your options. This includes when exactly you will purchase or begin your lease on a new car. Believe it or not, some parts of the year are better than others for car buying and leasing. We've outlined the benefits of buying vs. leasing and the best time of year for each below. Car buying can be a daunting experience, but we're here to help you every step of the way.
Once you've dreamed up your perfect manufacturer, model, color, and features, you are left with an important decision. Is it better to buy or lease your new car? Both options offer distinct advantages, but it's important to consider the benefits and drawbacks of both to decide which is better for your situation. If you're still on the fence when you choose a new car from our lot, our finance team can help you decide which option is best for your budget and driving goals.
If you plan to drive the same car for a long time, it makes more sense to buy your vehicle. While your down payment and monthly payments will be more expensive, your decision to buy will be more economical than leasing in the long run. Owning your vehicle also allows you the ability to customize it to your preferences. You shouldn't have to drive the same car like everyone else in Fort Meyers, FL. When you buy your vehicle, you can tailor each aspect to fit your aesthetic and needs. And you can drive it as much as you'd like without the penalty that accompanies some leases.
If you love that new car smell, leasing may be the option for you. When you choose to lease a vehicle, it's easier to trade in your car for the newest model every two or three years. It's also easier to afford driving a nicer car because both the down payment and monthly payments will be lower than if you decided to buy a vehicle. Plus, when you lease, there is often a warranty that covers the cost of all necessary repairs.
The Best Time of Year to Buy a Car
If you are not in a rush to buy a new vehicle, you're in luck. The cost of a car can fluctuate drastically depending on the month or even the day of the week. If you buy at the right time, you could potentially save yourself thousands of dollars. We recommend avoiding the weekends when you go car shopping. Try to shoot for Mondays, Tuesdays, or Wednesdays when there is less customer foot traffic. This way, you'll be more likely to score a better deal. Even here at O'Brien Easy, we are able to provide more attention to our customers on the weekdays when we are less busy. We also recommend shopping late in the year and late in the month. October, November, and December are the best months to purchase a vehicle because we are trying to meet our sales quotas and can often offer you a better deal. You should also use holiday sales to your advantage. We regularly host sales around Memorial Day, Black Friday, and New Year's Eve. Do your holiday shopping at O'Brien Easy this year and give yourself the best present of all, a brand-new vehicle. If you can wait, it's also advisable to buy this year's model of your desired vehicle when next year's model hits the market. When it comes to negotiating prices, time is on your side.
The Best Time of Year to Lease a Car
Unlike buying, the best time to lease a car is right after the model is introduced. Leasing a car that is new to the market generally saves you money on the deprecation cost. Residual values are updated every two months after a vehicle is released, and they generally decline with time. It is always important to negotiate when agreeing to lease prices, but you will most likely get the most bang for your buck when you lease a new vehicle. Look out for the release of new models from July to October. It can also be cost-saving to look out for any lease deals we may be running.
Our Used and New Cars to Choose From
When you choose O'Brien Easy for your new or used car dealer, you open up a world of options. We have an extensive inventory of used and new cars year-round. We specialize in Hyundai, Subaru, Mazda, and Genesis models, but we carry vehicles of all makes and models in our stock. Whatever you imagine yourself driving down the streets of Fort Meyers, FL, our team can help you find it. Regardless of the time of year, you are car shopping, we are sure to have an impressive selection of new and used vehicles for you to choose from. Plus, you can speak with our staff about the specific type of car you are looking for, and if we can't find you something similar, we'll let you know when one comes across our lot. Call today to learn more or browse our current selection.
First Time Car Buyer? We Have the Program for You
If you have never purchased a car and you lack a credit history, not all hope is lost. You may qualify for our First Time Buyer program. This program is designed to help first-time buyers obtain financing without any prior loan or leasing experience. If you can provide proof of income, have no derogatory comments on your credit report, and can pay a reasonable down payment or $500 or more, then we can help you qualify for our program. The car-owning experience is a journey, and we all have to start somewhere. Why not start yours at O'Brien Easy?
Why You Should Finance with O'Brien Easy
If you're looking to finance a new or used vehicle in Fort Meyers, FL, you're in the right place. O'Brien Easy employs financial experts who will guide you through every step of the financing process. We want to help get you behind the wheel with a payment plan you are comfortable with. We will discuss your desired budget and walk you through the loan and lease options we offer. Whether you are looking for the newest model or you seek a car of a more modest, used variety, our financial team can help make your visions a reality.
O'Brien Always Offers $500 More Than the Max on Trades
You should never accept less than your car is worth when you sell to a dealer or trade-in your car for a newer one. Here at O'Brien Easy, we want to make sure you get what you deserve when you trade in your old car. We always offer more than $500 than the trade-in value of your vehicle. This means that we determine the trade-in value based on specials and the current market, and then we add $500 to the max value we find. This way, you are always guaranteed the best possible deal when you trade-in at O'Brien Easy. When it's time to buy or lease a new car, you should make sure you get your money's worth from the old one first. Use our Value Your Trade tool to determine your old car's projected market value before coming in to discuss our trade-in offers with one of our dedicated staff members. Our $500 More than Max offer makes us the best place to trade a car in Fort Meyers, FL.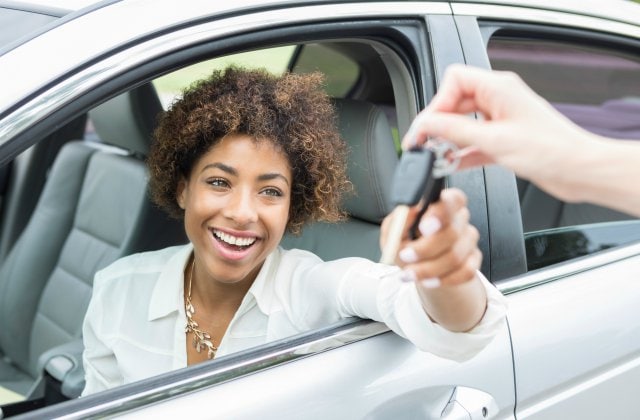 Contact Us Today to Find the Car of Your Dreams
No matter the time of year, when you are looking to purchase a used car or lease a new one, stop into O'Brien Easy to browse our current selection. Our inventory of new and used vehicles is extensive enough to have something for everyone. Whether you're looking to adventure in a new truck or Jeep or stay comfortable on your commute in a new sedan, we have the vehicle for you. Sort by your desired make, model, color, price range, and more to find your perfect ride. Sure there are industry trends that make certain times of the year better for buying and other times better for leasing, but the truth is you don't always have the option to wait. Here at O'Brien Easy, we understand the importance of having a reliable vehicle to drive around Fort Meyers. FL. Whatever time of year it is, we can help you find a quality, reliable car or truck that you'll love to drive. Contact us today to see how our staff can help you find the car, truck, or SUV of your dreams.